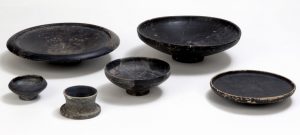 The International Association for Research on Pottery of the Hellenistic Period (IARPotHP) has announced the celebration of the "5th Conference: From East to West and back again: societies, economies and ceramics in the Hellenistic World" to be held from June 22-25, 2021 in Sevilla. The conference is structured in five topics: Long-distance Trade Networks and Local Markets; The Attic Legacy: Regional Development of Fine Ware Production; Amphorae, Stamps, Tituli Picti and Graffiti: from Kiln Sites to Marketplaces; Cuisine, Kitchens and Cooking Wares; and "Romanizing" the "Hellenized" Mediterranean? Evidence for Changing Tastes in the Late Hellenistic Period.
The 5th IARPotHP conference is organized by the Departamento de Prehistoria y Arqueología of the Universidad de Sevilla, with the suport of the Iberia Graeca Centre and the Museo Arqueológico-Paleontológico of La Rinconada (Sevilla).
The deadline to present the participation proposals ends on October 31.
More information: https://iarpothp.org/conferences_en_5.html